Why Choose Lemberg Stone for your Forest Hill countertop installation
We supply and install countertops for kitchens, bathrooms, bars and other areas. After choosing your specific slab, we will than fabricate it to the measurements required for your project. Once the slab is fabricated, we will come to install it. We work with a variety of countertop suppliers for a wide range of material selection.
Forest Hill Quartz Countertops
Quartz is probably the most popular countertop material to date. Quartz is a form of engineered stone made from ground up particles. It is popular material choice because it can be made to look like a natural piece of stone or flat to compliment any style. Quartz is a very hard material and because it is engineered, it is not porous like natural stone. Because quartz is not porous it is relatively easy to keep clean and this give sit antimicrobial properties.
Forest Hill Granite Countertops
Granite countertops are a traditional countertop material which are very popular. It is a natural product, with each slab being unique. This makes granite a timeless choice for many renovations or new projects. Granite is a hard stone and is very durable for kitchen and bathroom use.
Forest Hill Quartzite Countertops
Quartzite is a natural stone that is sure to leave an impression. Quartzite is often chosen as a countertop material because of its natural and bold look. Quartzite is durable stone but also requires regular cleaning and sealed once per year.
Forest Hill Marble Countertops
Marble has been used in homes for centuries. It is a very beautiful and natural made product where no two slabs are the same. Marble slabs require extra attention to cleaning and sealing. This is because marble is porous and soft. If you are ok with the maintenance of the stone for your countertop project, you will surely be satisfied with its natural beauty.
Check Our Latest Renovation Blog
Upgrading and renovating common areas within a condominium complex is a strategic decision that can significantly enhance the overall appeal, value, and functionality of the property. When it comes to elevating the aesthetics and luxury quotient of these shared spaces, using full slab feature pieces crafted from materials like quartz, marble, quartzite, or onyx can be a game-changer. In this...
Read More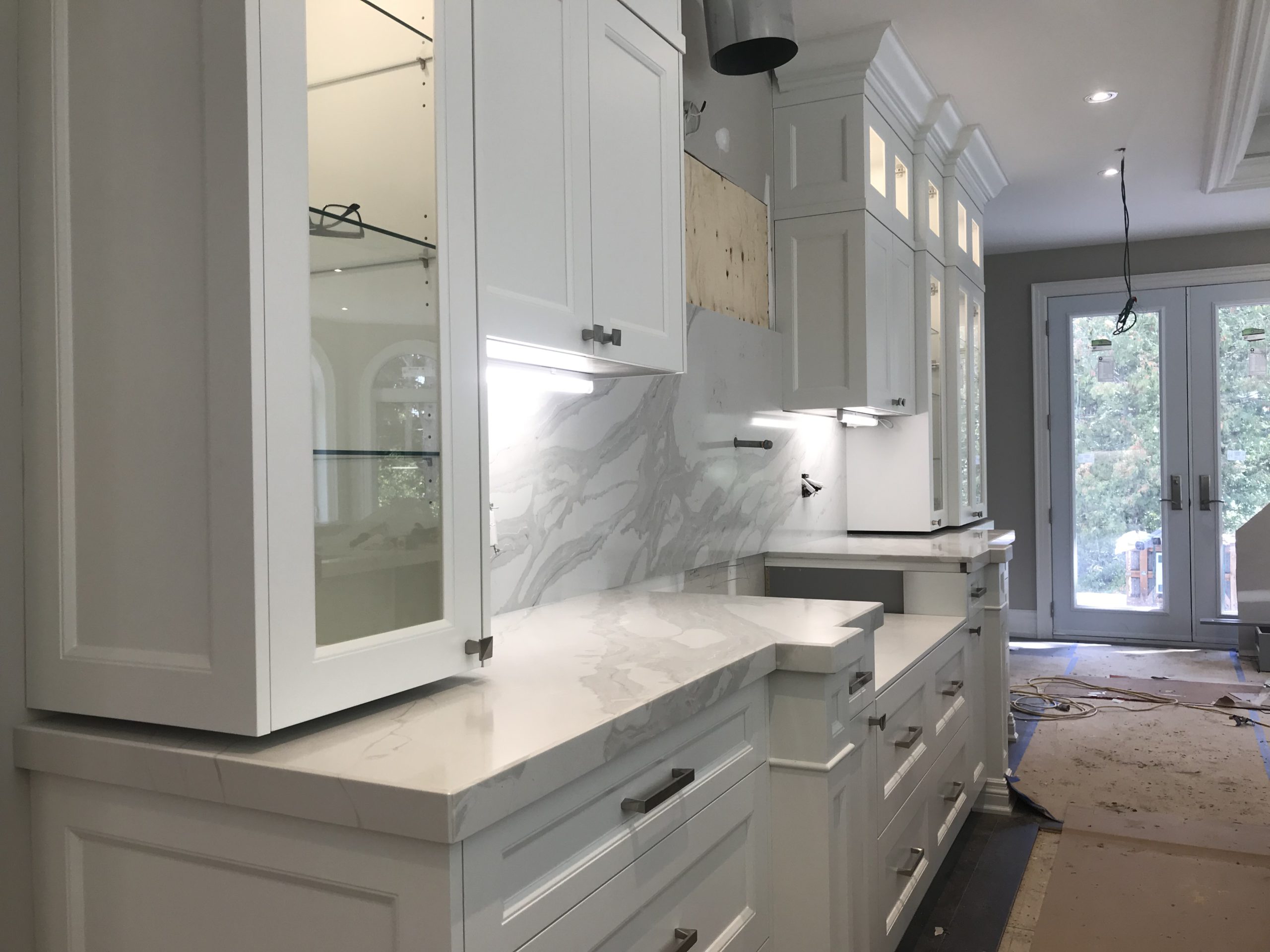 When you are in the market for countertops and backsplashes it is important to follow a simple process to keep your renovation on track. By following our Lemberg Stone process in choosing your stone it will help you conceptualize where you want the stone to go in your home, how you will maintain it in the future and how it will appear...
Read More